To die for!
Todays recipe was one of the best meals I have eaten, it was divine! Try it! I even took pictures because it was THAT good!

BREAKFAST. Slimfast.
LUNCH. Veggie soup ( about ready to give that a rest for a few days!) Crackerbread and cream cheese.
DINNER.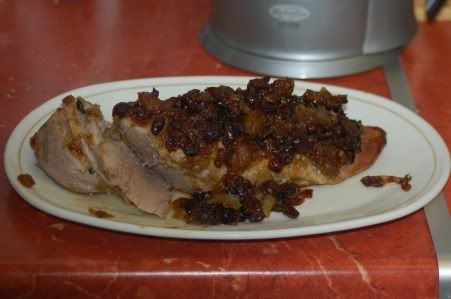 CranApple Pork Tenderloins
1 cup cranberries,
fresh1 cup cooking apples, coarsely chopped and peeled
/3 cup packed dark brown sugar
1/2 cup water1/4 cup onion, chopped
1 tablespoon fresh ginger, minced and peeled
1 teaspoon curry powder
1/8 teaspoon ground red pepper
2 (3/4-pound) pork tenderloins1/4 teaspoon salt1/4 teaspoon black pepper
cooking spray

1. Preheat oven to 350°. 2. Combine first 8 ingredients in a small saucepan and bring to a boil. 3. Reduce heat, cover and simmer for 20 minutes. Uncover and simmer for 2 minutes or until thick. Cool 10 minutes. 4. Place mixture in a blender or food processor and process until smooth. 5. Trim fat from pork and sprinkle with salt and pepper.6. Divide cranberry mixture in half. Brush pork with half of the cranberry mixture. 7. Place pork on a broiler pan coated with cooking spray.8. Bake at 350° for 30 minutes or until thermometer registers 160°. (Slightly pink). 9. Serve pork with remaining cranberry sauce. Makes 6 servings.


Serving size: 3 oz pork and 2 Tsp sauce. Cal 243, Fat 3.1g, Pro 24g, Carb 29.5g, Fiber 1.0g, Chol 74mg, Iron 2.10mg Sod 164mg

I used dried cranberries and ground ginger and it was absolutely delicious. Really filling and perfect for a cold evening!
Labels: Day 40